Council of Bishops sets out to refocus on the UMC congregations that stay after 2023.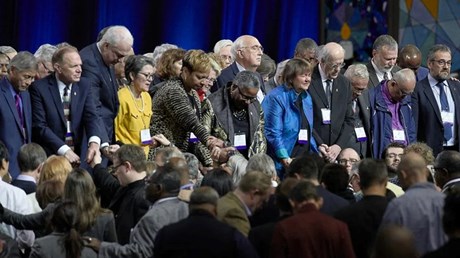 United Methodist bishops have proposed a five-day meeting of the denomination's global decision-making body, the General Conference, in May 2026.
The announcement comes at the end of the Council of Bishops' spring meeting last week in Chicago and a weekend that saw hundreds of United Methodist churches in the United States leave the denomination.
The 2026 General Conference would focus on re-establishing connection within the United Methodist Church, lamenting, healing and recasting the mission and vision for the mainline denomination after years of strife over the ordination and marriage of its LGBT members, ther-decisions-17416737?fbclid=IwAR1BR6ZSrfGSukg-euyUNM5g-qIM94GSiBcSe182Mdo3xPJno4V9McbFtGk" class="">according to a press release published Monday (May 8) on the Council of Bishops' website.
Delegates to the General Conference also would consider a more regional governance structure to better support the remaining denomination, which currently numbers about 30,000 U.S. churches.
"I admit to you I'm eager to get past all this. I want us to stop talking about disaffiliations," Bishop Thomas Bickerton, president of the Council of Bishops, said during the bishops' meeting, which ran April 30 to May 5.
"I'm worried genuinely that we've spent more time on those that are leaving than focusing our energy on those who are staying."
Delegates to the 2020 General Conference meeting had been expected to consider a the-denomination/" target="_blank" class="">proposal to split the denomination over its disagreement on sexuality and help create a new, theologically conservative denomination called the Global Methodist Church. That would allow the United Methodist Church to change language in its Book of Discipline that bars same-sex marriages and LGBT clergy.
When the 2020 meeting was postponed a third time for pandemic-related …
About Author
[youtube-feed feed=1]
[youtube-feed feed=2]
[youtube-feed feed=3]
[youtube-feed feed=4]
[youtube-feed feed=9]
[youtube-feed feed=8]
[youtube-feed feed=7]
[youtube-feed feed=5]
[youtube-feed feed=10]
[youtube-feed feed=11]