Ideas– Questions, Answers, Game, Bible Study & Stories
Question
New Birth
New Birth
"Jeff, what does it mean to be born again?" twelve-year-old Sally asked her brother who just turned fourteen. "We talked about the new birth in Bible class today, and I just don't understand it. I know I was born once, but how am I supposed to be born again?"
"Well, Sally, it means that God does something deep inside your heart, where you become a new person inside. You start thinking and living the way God wants you to. You're still yourself, but what is new is your character, your way of feeling and thinking and acting, because Jesus is now in your life. You love what He loves, and you no longer want to do the things that are bad for you and others. This change is also sometimes called conversion."
"That's a big change for anyone," said Sally, thoughtfully. "If that's what happens, then I would like to be born again or — be converted."
"If you want to really get the right picture of what it all means," Jeff replied, "then you need to study it out from the Bible, because that's where the real information is."
"Will you help me?" Sally asked, hopefully.
"Sounds like a good idea," said Jeff, "I'd like to understand this subject better myself."
Let's see what Jeff and Sally found out.

Jesus made it clear, we cannot be saved unless we are converted. "Assuredly I say to you, unless you are converted and become as little children, you will by no means enter the kingdom of heaven"(Matthew 18:3).

We must be born of water and of the Spirit. "Most assuredly I say to you, unless one is born of water and of the Spirit, he cannot enter the kingdom of God. That which is born of the flesh is flesh, and that which is born of the Spirit is spirit."(John 3:5,6).

We are born again by the word of God. "Having been born again not of corruptible seed but incorruptible, through the word of God, which lives and abides forever"(1 Peter 1:23) compare with Romans 10:17.
How are we born again? Listen to the Holy Spirit when He points out to us what we need to change, want to be like Jesus — this is called "repentance."It's in the Bible, Acts 2:37, "Now when they heard this [the preaching of Christ crucified], they were cut to the heart, and said to Peter and the rest of the apostles, 'Men and brethren, what shall we do?'
True repentance is being sorry for our sins, because they hurt Jesus. So sorry, that we want to change. But can we change ourselves? No.It's in the Bible, Job 14:4, "Who can bring a clean thing out of an unclean? No one"
How are we changed? We admit we were wrong and accept Christ's death for our sins, accept His forgiveness. It's in the Bible, 1 John 1:9, "If we confess our sins, He is faithful and just to forgive us our sins and to cleanse us from all unrighteousness."
After we accept God's forgiveness of our sins, we accept Christ's life. It's in the Bible, Galatians 2:20, " I have been crucified with Christ; it is no longer I who live, but Christ lives in me; and the life which I now live in the flesh I live by faith in the Son of God, who loved me and gave Himself for me."
Christ gives us a new character as we believe and live in Him. It's in the Bible, 2 Corinthians 5:17, "Therefore, if anyone is in Christ, he is a new creation; old things have passed away; behold, all things have become new."

God gives us a new heart, that has the power to to live this new life. It's in the Bible, Ezekiel 36:26-27, "I will give you a new heart and put a new spirit within you; I will take the heart of stone out of your flesh and give you a heart of flesh. I will put My Spirit within you, and cause you to walk in My statutes, and you will keep My judgments and do them."

He even gives us the desire to fix, as best as we can, the things we did wrong to people in the past. See Ezekiel 33:14-16; Luke 19:8.
God's commands become promises, because He transforms our hearts and minds. It's in the Bible, Hebrew 10:16-17, "'This is the covenant that I will make with them after those days, says the Lord: I will put My laws into their hearts, and in their minds I will write them,' then He adds, 'Their sins and their lawless deeds I will remember no more.'"

The fruits of Holy Spirit will also grow in our lives. It's in the Bible, Galatians 5:22,23, "But the fruit of the Spirit is love, joy, peace, longsuffering, kindness, goodness, faithfulness, gentleness, self-control. Against such there is no law."

We will keep growing in grace and godliness in our new nature. "You have put on the new nature, which by constant renewal in the likeness of its Creator, leads to a fuller knowledge of God."(Colossians 3:9,10, Phillips).
Cool Facts About the bible
Question
Cool Facts about the Bible!
Cool Facts about the Bible!
Did you know…?
The Bible is actually a collection of 66 books?
That the 66 books are written from 44 different authors?
The 39 books of the Old Testament were written between 1400 and 400 B.C.
There are 27 books in the New Testament, and they were written between A.D. 50 and A.D. 100.
From 1400 B.C. to A.D. 100 is about 1500 years! Amazing!

When the Bible was first written, there were no chapters or verses as today. In fact, many of the early, handwritten manuscripts were written without spaces between the words!
Stephen Langton divided the Bible into chapters about A.D. 1228.
The Old Testament was divided into verses by R. Nathan in A.D. 1448
Robert Stephanus divided the New Testament into verses in A.D. 1551.
The first complete Bible with chapter and verse divisions was the Geneva Bible of A.D. 1560.
Here are some interesting facts and trivia regarding the King James Version of the Bible produced in A.D. 1611.

Books of the Bible:
Old Testament: 39 books
New Testament: 27 books
Complete Bible: 66 books
Middle book of the Old Testament: Proverbs
Middle book of the New Testament: 2 Thessalonians

Verses:
Old Testament: 23,214 verses
New Testament: 7,959 verses
Complete Bible: 31,173 verses
Middle verse of the Bible: Psalms 103:1,2
Middle verse of the Old Testament: 2 Chronicles 20:17
Middle verse of the New Testament: Acts 17:17
Shortest verse of the Old Testament: 1 Chronicles 1:25
Shortest verse of the New Testament: "Jesus wept." John 11:35; "Rejoice evermore" 1 Thessalonians 5:16
Longest verse in the Bible: Esther 8:9
Verse containing all letters of the alphabet except "J": Ezra 7:21
Verse containing all letters of the alphabet except "Q": Daniel 4:37
Verses most alike: Psalm 107:8,15,21, 31

Chapters:
Old Testament: 929
New Testament: 260
Entire Bible: 1,189
Middle chapter of Old Testament: Job 29
Middle chapter of New Testament: Romans 13
Middle and shortest chapter of Bible: Psalms 117
Longest chapter in the Bible: Psalm 119
Chapters that are most alike: 2 Kings 19 and Isaiah 37

Words:
In the Old Testament: 592,439 words
In the New Testament: 181,253 words
Complete Bible: 773, 692 words
Longest word in the Bible (18 letters): Maher-shalal-hash-baz (Isaiah 8:1)
Words occurring only once in the Bible: eternity (Isaiah 57:15); grandmother (2 Timothy 1:5); gnat (Matthew 23:24)
Question
Why doesn't God answer my prayers?
Why doesn't God answer my prayers?
Does God really mean it when He says He will give us what we ask for?
Why does the Bible say things such as Matthew 7:7, "Ask, and it will be given to you"…
Will He really answer when we call? Isaiah 65:24: "Before you call I will answer, while you are still speaking, I will hear."

Why at times does it appear that God ignores us when we pray to Him, asking Him to help when we have a serious problem? Many have prayed for God to do something and solve a problem that they are struggling with, but sometimes God is silent.

God knows what's best
Even when we feel that God is not answering our prayers, you can always know God is a God of love. The Bible tells us He loves us:

John 3:16. '"For God so LOVED the world"…….
Jeremiah 31:3, "I have loved thee with an everlasting love."….

God created us and knows infinitely more than we know. He knows what is best for us, and what would not be good for us. Just like moms and dads do not always give little kids everything they ask for because they sometimes ask for things that would not be good for them, or would harm them. It's not because parents don't want good things for their kids. For good reasons sometimes parents do not always give their children what they ask for, when they ask for it. Parents give them what is best for them.

It is the same way in our prayers to God. God gives us what is best for us. We are God's children and He gives us what is best for us, and at a time when it is best for us. Our lives must be right with God before He can answer our prayers.

Right way
There is a wrong way and a right way to pray. Before our prayers can be answered, there are certain things we must do. One of the first, is we feel our need of help from Him. Isaiah 44:3 says, "I will pour water upon him that is thirsty, and floods upon the dry ground." The heart must be open to the Spirit's influence, or God's blessing cannot be received. It is like trying to pour water into a cup that is already full.

Right heart
If we have hang onto sins in our lives, and refuse to give them up, or if we are doing things we should not be doing, and are disobeying Him, we cannot expect Him to answer our prayers. Also, if we refuse to forgive others who have wronged us, God cannot hear us. (See Matthew 6:12 and Ephesians 4:32).

This is not saying you can earn God's favor to answer your prayers, it will always be Jesus's blood that makes us worthy; but we do need to do our part if God is going to work in our lives.

Pray without ceasing
One of the reasons we feel our prayers are not being answered, is because we stop praying. 1 Thessalonians 5:17 says it best, "pray without ceasing." Paul is more direct in Philippians 4:6, "In everything by prayer and supplication with thanksgiving let your requests be made known to God."

We should not be worried so much about if God hears our prayers – He does and He does care. What we should be worried about is if because of temptations, hard times, and trials we get discouraged, and give up praying. In Luke 18:1, Jesus, "spoke a parable to them, that men always ought to pray and not lose heart."

His time, His will
God is a God of love, and He is interested in every detail of our lives. He hears our prayers, and answers every sincere prayer if we do our part. We should not expect every answer will be "yes", since we are sinners and do not always ask what is best for us. Sometimes His answer is "No' and sometimes it is "wait." (Hebrew 10:36) We need to end each prayer with, "Not my will but Your will." Even if we are trying to do God's will to the best of our ability, He may see that it is best for us not for Him to say "yes" at this time. We must continue trusting Him, regardless of His answer at the moment.

God's time is not the same as ours. He knows better than we do when is the best time for our prayers to be answered. (See Hebrews 6 :13-15). God is eternal and does not measure time as we do. 2 Peter 3:8: "Beloved, do not forget this one thing, that with the Lord one day is as a thousand years, and a thousand years as one day."

In the story of Abraham, God promised a son to Abraham. But Abraham became impatient when Sarah didn't bear him a son. Abraham tried to solve the problem in his own way and the result was disastrous. God eventually answered his prayer at the time when He saw it was best for Abraham.

For God to give us what we ask for, we must ask "according to His will." 1 John 5:14, "…if we ask anything according to His will, He hears us." If you do not ask according to God's will, it is not real faith in God. If God's answer is "No" we still must be willing to wait patiently, and trust God to answer in his own way and in His timing.

Trust God, even though you may at the moment feel He is not near and has abandoned you.

Isaiah 41:9,10:
"You whom I have taken from the ends of the earth, and called from its farthest regions, and said to you, You are my servant, I have chosen you, and have not cast you away. Fear not for I am with you; be not dismayed, for I am your God. I will strengthen you,
Yes, I will help you, I will uphold you with My righteous right hand."

If we have faith and sincerely trust God, we will not be concerned as to whether the answer is "wait" or the answer is "no" or "yes." We must just trust, and wait and see if God in His timing will see fit to answer as we have asked, or perhaps He has something better in mind for us. Remember your prayer should end with "Not my will, Lord, but Your will." (Luke 22:42). "Trust in the Lord with all thine heart; and lean not unto thine own understanding. In all thy ways acknowledge Him, and He shall direct thy paths." Proverbs 3:5-6.
Question
How do We know We can Trust the Bible?
How do We Know We can Trust the Bible?
Ever felt like, "if Jesus were in front of me, it would be so much easier to believe in Him?" Or, "if God would just show me a sign or a miracle, then it would be easier to have faith?" Did you know there is even stronger proof that can help us have faith in Jesus, better than seeing a miracle with your very own eyes?

If you read the story in Luke 24, Jesus shows us that that there is something that is more trustworthy than miracles!

Two disciples of Jesus were walking to a little town called Emmaus. It was just two days ago that Jesus was crucified and died on the cross.
They were followers and believers in Jesus. They had seen His many miracles – like when He fed 5,000 people with five loaves of bread and two fish, or the blind man who now could see, or the lady who no longer had a bent back, or the deaf people that now could hear. They also knew Jesus had raised people from the dead. There were stories that Jesus had raised the Jairus's little girl. Jesus even resurrected Lazarus! Now that was amazing – Lazarus was already dead for four days and his body had began to rot, but Jesus brought him back to life in perfect condition!

These two disciples listened to His teachings, worked with Him, and they loved Jesus. He was their Lord and friend. With all the miracles that Jesus did, they were positive and sure that He had to be the Messiah. But if Jesus was the Messiah, why didn't He save Himself from being beaten? When the guards started to whip Him and make fun of Him, why didn't He fight back? Didn't He say that God was His Father? Why didn't God do something and step in to stop Jesus from dying? Maybe Jesus wasn't who He said He was after all. The two disciples had lost hope, and they had lost faith.

A stranger then joins them. He asks them why they were so sad, and the two disciples tell him how they feel. How they had hoped Jesus would be the one to save Israel, but they were let down and disappointed. They just simply can't believe that Jesus died, and so shamefully! The stranger then says, "O fools, and slow of heart to believe all that the prophets have spoken: ought not Christ to have suffered these things and to enter into His glory?"

Who was this stranger? Why, it's none other than Jesus Christ Himself – risen from the dead! But the two disciples are so absorbed in their gloom and disappointment, they don't recognize Him. Why doesn't Jesus show them His nail-pierced hands? Why doesn't Jesus do a miracle to show them He is alive, so that they no longer would be heartbroken, but filled with joy and gladness? He must first give them lesson they would never forget.

"And beginning at Moses and all the Prophets, He expounded to them in all the Scriptures the things concerning Himself." Jesus's first work is to explain the Bible – show how the Bible's prophecies are the strongest evidence for their faith. Through the teachings of the Bible, Jesus shows the disciples how everything that happened to Jesus on the cross was predicted before. The Bible foretold hundreds of years before that the Messiah had to die to save the world from sin!

Just like those two disciples, Jesus doesn't want our faith to be based on miracles, but on the promises of Scripture. So how do we know we can trust the Bible?

The Bible is from God. 2 Timothy 3:16 says, "All Scripture is given by inspiration of God, and is profitable for doctrine, for reproof, for correction, for instruction in righteousness." This means that the messages and writings of the Bible were all given by God. That is why they are all useful to show us truth, to point out our faults, to correct us, and to train us to live like Christ.

The Bible has messages from God to His people. The Bible is not another book written by regular people. It's in the Bible, 2 Peter 1:21 "for prophecy never came by the will of man, but holy men of God spoke as they were moved by the Holy Spirit."

Why was the Bible written? John 20:31 says, "but these are written than you may believe that Jesus is the Son of God, and that believing you may have life in His name." Jesus also says in John 5:39 that the Scriptures, "testify of Me." All throughout the Bible the main point of it is to teach us about Jesus.

The Scriptures are truth. It's in the Bible, John 17:17, "Sanctify them by Your truth. Your word is truth." The Bible is God's Word, it is truth. Psalm 119:105 says, "Your word is a lamp to my feet and a light to my path." God's word is like a flashlight of truth that shines in the darkness and helps us to know what is wrong and what is right.

The Bible has also predicted events in the future in prophecies that have been fulfilled throughout history. In Isaiah 46:9-10, God says, "Remember the former things of old, For I am God, and there is no other; I am God, and there is none like Me, declaring the end from the beginning, and from ancient times things that are not yet done." Truly, there is no other book like the Bible that has had prophecies come true, with exact detail. One of the most incredible prophecies is found in Daniel chapters 2, 7 and 8. Hundreds of years before it happened, God told His servant Daniel that the empires of Babylon, Medo-Persia, Greece and Rome would rise and fall. He even foretold that after the Roman Empire there would not be another empire that would arise and unite all the countries again. Amazing! You can check out any history book in your library and read how God's prediction came true – in that exact order!

Evidence in Archaeology. Many times people have tried to disprove the Bible, but archaeologists continue to find evidence that the Bible is true. For years skeptics would say that the Bible is unreliable because it mentions cities like Ninevah and Sodom, but there was no proof they existed – until they found the ruins of both cities. They also used to call the book of Daniel false because there was no evidence of Belshazzar as king in Babylon. And then they found documents that proved the Bible right again!

However, the best proof there is that we can trust the Bible is the way people's lives have changed from reading it. It's in the Bible, Romans 1:16, "I am not ashamed of the gospel for it is the power of God to salvation of everyone who believes…" Millions of men and women all around the world have had the experience of finding a new life and their Savior in the Bible. A rap star gives up smoking and fame to become a preacher for God. A drunkard mom stops drinking alcohol to drink from the fountain of life that comes from Christ. A punk rock skateboarder changes from being an atheist to preach to thousands about Christianity. A woman going from relationship to relationship stops and finds the love of her life in Jesus. A rude boss becomes a soft-hearted servant. Story after story of people whose lives change for the better after finding Jesus in the pages of the Bible provide some of the most incredible proof that we can trust the Bible. There is no other book with truths that speak to the heart and our deepest needs, and can change a person from the inside out. To start your free Bible study course today
Children Ministry Sample Questions, Bible study topics, stories and much more can be found via this link below
21 Outreach ideas for Kids
21 Outreach Ideas for Kids to Help Grow Your Church Community
Use these 21 outreach ideas for kids to help them learn to reach out to their friends and neighbors.
At a recent outreach retreat, one of our visiting children decided to follow Christ. His parents came to church the next Sunday. They said, "Our son came home so changed that we wanted to find out why."
That's what outreach is all about — reaching out to people who'd normally not come to your church. Listed below are 21 outreach ideas to help your churched kids reach out to their unchurched friends and families. Take the time and effort to plan and organize well. Make sure kids understand that they can invite their unchurched friends. It won't be hard to convince them. When you provide fun events, kids will eagerly let their friends know.
Outreach Ideas to Grow Your Church Community
Special Days Outreach Ideas
Kids of all ages will enjoy these days.
1. Art Day
Invite a local artist to teach cartooning, color and line, and perspective. Have kids make masks or learn how to mix colors.
2. Gym Day
Rent or borrow a gym if you don't have one on your church campus. Invite a local sports figure to offer a clinic for your kids. Ask a local grocery for free drinks and give a sponsor's award in return with your thanks.
3. Game Day
Have kids bring their favorite table games. Hold a tournament and give prizes in each age category. Or make your own games. How about a huge Twister using various colored paper plates taped to the floor?
4. Sidewalk Circus
Have children make puppets and create a puppet show. Take your puppet team to the city park and hold a sidewalk circus. You can also have circus-type acts, clowns, and balloons. Invite visiting children to come to your church on Sunday.
5. Music Day
Have kids bring their own instruments for a band. Or have a kazoo marching band.
6. Ecology Day
Teach about reuse, reduce, and recycle. Have kids plant trees in your community or coordinate a paper drive. Communicate the ecology message from the standpoint that God created the world and gave us authority over it.
7. Kite Day
Fly high in the spring. After morning worship, supply kite-making materials. Serve families pizza or hot dogs for lunch. After everyone has eaten and made a kite, enjoy flying the kites.
8. Celebrate Friend Day
Encourage each child to bring a friend to Sunday school. Honor friends by having children give their guests a special name tag and a helium balloon.
9. Cookie Bake Off
With plenty of adult supervision, have children bake cookies. Use simple, pictorial recipes and pre-measure all ingredients. After the cookie party, have kids seal the extra cookies in plastic bags. Take children to give the cookies to a shut-in, nursing home resident, or sick child.
10. Animal Crackers
How about a petting zoo or a parade of your favorite stuffed animals? Maybe a live pet show? Kids could pretend to be animals in the zoo. Or you could re-enact Noah's collection of animals. Set up in a neighborhood on Saturday morning and watch kids flock to you.
11. Children's Day
Use this special day to recognize children. Focus all the music and events around children. Decorate with helium balloon bouquets. Have children assist adult ushers and lead in prayer. Invite parents so they can be ministered to as they see how much your church values their children.
12. S.O.K. (Summer Outing for Kids)
This is a special day in the summer. Charge a nominal fee for these days and encourage kids to invite friends. You can do any of the following:
Go to the zoo, a children's museum, or a farm.
Have a cooking day where kids prepare and cook their own lunch.
Hold a day camp with planned activities such as crafts,
cooking, games, and stories.
13. Kinder Kamp
Get an address list of unchurched preschoolers by asking young mothers for names of unchurched mothers of preschoolers they know. On the Saturday before preschoolers are promoted to their new Sunday school class, invite churched and unchurched preschoolers and their parents to Kinder Kamp. Have them come to their new Sunday school departments, meet their new teachers, and see what they'll be doing. Serverefreshments and give each child a school box and pencil. Children and parents will be more excited about Sunday school after Kinder Kamp.
Parties Outreach Ideas
You won't have to coerce kids to invite their friends to these fun events.
14. Design a T-Shirt Party
Do this activity at the beginning of the summer and have kids design a theme shirt for the summer. Provide fabric paint and have kids bring T-shirts to decorate. Then set kids free to create.
15. Pizza Party
Set up a topping bar and have kids make their own pizzas on English muffins. Combine this food-fest with a Frisbee golf tournament on the lawn. You could call this one "Par Wars and the Pepperoni Strikes Back"!
16. Movie Party
Rent a movie with permission to show the movie to a group. Pop plenty of popcorn. Have kids make this a "drive-in movie" by making cars out of boxes before the movie starts. Kids can sit in their "cars" and watch the show.
17. Make-a-Movie Extravaganza
Use Bible themes and re-enact biblical stories, or create your own theme. Give plastic "Oscar" awards after the screening.
18. Game Shows
Run your own game show. It's fun! Game versions of shows such as Double Dare are available at toy outlets. Or you can make your own Wheel of Fortune game.
19. Gong Show
This is an amateur program based on TV's The Gong Show. Kids can show off their talents and have a great time. Plan silly adult talent acts for gonging. Use a hanging metal trash can lid for gonging.
Extended Events Outreach Ideas
During longer events, there are greater opportunities for churched kids to share their faith with their unchurched
friends.
20. Snow J-A-M (Jesus and Me)
You can call this retreat for third- through sixth-graders anything you want-as long as you keep the J-A-M for "Jesus and Me." It's Snow J-A-M in our church because it's held in January and there's snow on the ground!Plan this retreat away from the church on a Friday night or an all-day Saturday. And encourage kids to invite other kids. Invite a speaker to address topics such as friendship, self-image, and relationship with Jesus.
21. Rainbow River Camp
This four-day camp has recreation, Bible stories, games, and worship for kids. Provide enough adult supervision for quality one-on-one time for each child at some time during the camp. You'll have best outreach results if you have this in a city park.
Children Bible Topics and Sermons
Topic
Witchcraft
Witches and Wizards
Have you ever heard of Harry Potter? He is the main character in a series of books and movies for young kids. Unfortunately, Harry is a wizard and he flies in the air and cast spells on people like the fairy tale witches. But what does the Bible say about Witchcraft and Wizards? Should we be trying to learn how to cast spells?
Witchcraft and wizards are just make-believe, right? – Like a Disney movie? Wrong! Witchcraft is practiced as a religion in almost every country. According to Webster's New World Dictionary, a witch is someone with supernatural powers by a compact with the devil or evil spirits. Witches and wizards began as a part of heathen worship and practices.
Who or what do witches worship? There are different kinds of witches. Most worship nature. Some worship Lucifer. They also claim to worship a female Goddess and a male God
What does the Bible say about witchcraft and wizards? God left no doubt about His feeling on witches and wizards. It's in the Bible, "There shall not be found among you anyone …who practices witchcraft… or one who conjures spells…" (Deuteronomy 18 10, NKJV). God did not want His children to get involved in satanic practices.
What do witches and wizards do that is so bad? They cast spells using black magic. Some witches today claim to cast only good spells – but God is not pleased with anyone who cast spells. They also predict the future using crystal balls, or the position of the planets and stars. It's in the Bible "So why are you trying to find out the future by consulting witches and mediums. Don't listen to their whisperings and mutterings. Can the living find out the future from the dead? Why not ask your God?" (Isaiah 8:19, TLB).
Will those who continue to practice witchcraft be able to go to heaven? Not according to the Bible, "The acts of the sinful nature are obvious: sexual immorality, impurity and debauchery; idolatry and witchcraft; hatred, discord, jealousy, fits of rage, selfish ambition, dissensions, factions and envy; drunkenness, orgies, and the like. I warn you, as I did before, that those who live like this will not inherit the kingdom of God"(Galatians 5:19-21, NIV).
Is it alright for Christians to get involved with witchcraft and wizards? No! The Bible is very clear, "You cannot drink the cup of the Lord and the cup of demons; you cannot partake of the Lord's table and of the table of demons. Or do we provoke the Lord to jealousy? Are we stronger than He" (1 Corinthians 10:21, 22, NKJV).
What if I have been involved with witchcraft? You can find out what to do by looking in the Bible in 1 John 1:9, NIV. "If we confess our sins, He is faithful and just and will forgive us our sins and purify us from all unrighteousness." God is willing to forgive and deliver us of any sin. Ezekiel puts it this way, " But if a wicked man turns from all his sins which he has committed, keeps all my statutes, and does what is lawful and right, he shall surely live; he shall not die. None of the transgressions which he has committed shall be remembered against him; because of the righteousness which he has done, he shall live" (Ezekiel18:21, 22, NKJV). Pray for God's forgiveness and ask for His power. God is the only one who can save.
Topic
10 Commandments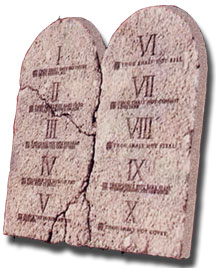 Ten Commandments

Imagine what our world would be like if there were no stealing, killing or adultery. The jails would be empty and your bicycle would be safe regardless of where you left it. People wouldn't even have to lock their doors, and you could walk around town without an adult. That's really what God had in mind when He wrote the Ten Commandments.
What are the Ten Commandments? God's law contains ten rules or commandments. You can find them in the Bible in Exodus 20. "And God spoke all these words, saying: 'I am the LORD your God, who brought you out of Egypt, out of the house of bondage.
You shall have no other gods before Me.
You shall not make for yourself a carved image – any likeness of anything that is in heaven above, or that is in the earth beneath, or in the water under the earth; you shall not bow down to them or serve them. For I, the LORD your God, am a jealous God, visiting the iniquity of the fathers upon the children to the third and fourth generations of those who hate Me, but showing mercy to thousands, to those who love Me and keep My commandments.
You shall not take the name of the LORD your God in vain, for the LORD will not hold him guiltless who takes his name in vain.
Remember the Sabbath day, to keep it holy. Six days you shall labor and do all your work, but the seventh day is the Sabbath of the LORD your God. In it you shall do no work: you, nor your son, nor your daughter, nor your male servant, nor your female servant, nor your cattle, nor your stranger who is within your gates. For in six days the LORD made the heavens and the earth, the sea, and all that is in them, and rested on the seventh day. Therefore the LORD blessed the Sabbath day and hallowed it.
Honor your father and your mother, that your days may be long upon the land which the LORD your God is giving you.
You shall not murder.
You shall not commit adultery.
You shall not steal.
You shall not bear false witness against your neighbor.
You shall not covet your neighbor's house; you shall not covet your neighbor's wife, nor his male servant, nor female servant, nor his ox, nor his donkey, nor anything that is your
How did Jesus summarize the Ten Commandments? "Jesus replied: 'Love the Lord your God with all your heart and with all your soul and with all your mind.' This is the first and greatest commandment. And the second is like it: 'Love your neighbor as yourself.' All the Law and the Prophets hang on these two commandments" (Matthew 22:37-40, NIV).
So you're saying that if I love others, obeying the commandments is natural. Exactly. It's in the Bible, "Love does no harm to its neighbor. Therefore love is the fulfillment of the law" (Romans 13:10, NIV).
Are there other reasons for keeping the Ten Commandments? Yes! It's in the Bible, "…through the law we become conscious of sin" (Romans 3:20, NIV). The law helps you know what sin is. In other words it teaches you the difference between right and wrong or good and evil. If the commandments are about love and goodness, what would the opposite be? You guessed it, evil and wrong doing.
Isn't keeping the law a big burden? No, it's the opposite. It gives you freedom. It's in the Bible, "But he who looks into the perfect law of liberty and continues in it, and is not a forgetful hearer but a doer of the work, this one will be blessed in what he does" (James 1:25, NKJV). Think about this: Who has liberty? The one who in prison for murder or stealing, or the one who loves God and his neighbor? Feeling guilty for doing something wrong is not freedom or happiness.
Can God's law be changed? No. Not even Jesus came to change God's law. Jesus said, "Do not think that I have come to abolish the Law or the Prophets; I have not come to abolish them but to fulfill them. I tell you the truth, until heaven and earth disappear, not the smallest letter, not the least stroke of a pen, will by any means disappear from the Law until everything is accomplished" (Matthew 5:17, 18, NIV).
Is obeying God's law really important? Yes. The Bible says, "Here is the conclusion of the matter: Fear God and keep his commandments, for this is the whole duty of man" (Ecclesiastes 12:13, NIV).
Is it necessary to keep all ten of the commandments? The Bible says, "Whoever keeps the whole law and yet stumbles at just one point is guilty of breaking all of it. For he who said, 'Do not commit adultery,' also said, 'Do not murder.' If you do not commit adultery but do commit murder, you have become a lawbreaker" (James 2:10, 11, NIV). The Ten Commandments are like the links of a chain; if you break one link of a chain, the whole chain is broken.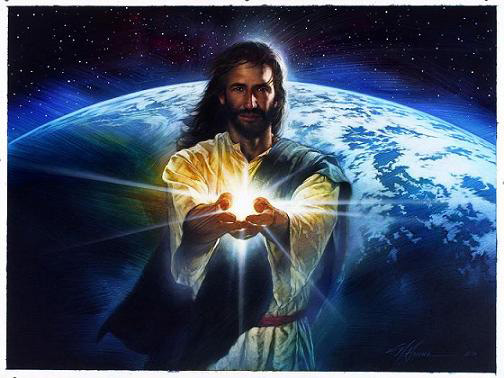 Are we saved by obeying God's law? The Bible says, "Then what can we boast about doing, to earn our salvation? Nothing at all. Why? Because our acquittal is not based on our good deeds; it is based on what Christ has done and our faith in him. So it is that we are saved by faith in Christ and not by the good things we do. And does God save only the Jews in this way? No, the Gentiles, too, may come to him in this same manner. God treats us all the same; all, whether Jews or Gentiles, are acquitted if they have faith. Well then, if we are saved by faith, does this mean that we no longer need obey God's laws? Just the opposite! In fact, only when we trust Jesus can we truly obey him" (Romans 3:27-31, TLB).
We cannot save ourselves by obeying God's law. Only Jesus can save us; He's the only Savior. When we accept Him and believe in Him and trust Him, He saves us from our sins.
Why should I keep the commandments? We keep the commandments to demonstrate our love for Christ. It's in the Bible, "If you love Me, keep my commandments" (John 14:15, NKJV).
Topic
Where Did I Come From?
Where Did I Come From?
Most of us wonder where we really came from…before our parents, before our grandparents, before our great-grandparents, before our great-great-grandparents, and on and on. Jesus knows. Let's read it in the Bible.
Can I know where I came from? Yes. The Bible says, "So God created man in his own image, in the image of God he created him; male and female he created them" (Genesis 1:27, NIV). The Bible says you came from God Himself – not from some monkey evolving over millions of years.
How did this world get here and how long did it take? The Bible says, "In six days the Lord made the heavens and the earth, the sea, and all that is in them, but he rested the seventh day. Therefore the Lord blessed the Sabbath day and made it holy" (Exodus 20:11, NIV). God created our world and everything in it in six days, then rested on the seventh day. So it took one week – seven days – for our world to come into being through God's creative power.
How did God create the world and everything in it? The Bible says, "He [God] merely spoke, and the heavens were formed, and all the galaxies of stars….For when he but spoke, the world began! It appeared at his command!" (Psalm 33:6, 9, TLB). All God had to do was speak, and it was done!
Through whom did God create all things? The Bible says, "By him [Jesus] all things were created: things in heaven and on earth, visible and invisible, whether thrones or powers or rulers or authorities; all things were created by him and for him" (Colossians 1:16, NIV). Jesus, the One who came to be our Savior by dying for us on the cross – is the One who created us and our world and everything in it.
God created the world and the animals and the stars, but what about humans? Did God make them too? Yes, He did. The Bible says, "When God created man, he made him in the likeness of God. He created them male and female and blessed them. And when they were created, he called them 'man'" (Genesis 5:1, 2, NIV).
Not only were you created by God, He made you in His own image! The Bible says, "So God created man in his own image; in the image of God he created him; male and female he created them" (Genesis 1:27, NIV). Human beings were the crowning act of God's creation. He made us in His own image. That makes you special!
What job was man given to do? The Bible says, "Then God said, 'Let us make man in our image, in our likeness, and let them rule over the fish of the sea and the birds of the air, over the livestock, over all the earth, and over all the creatures that move along the ground'" (Genesis 1:26, NIV).
"When I look up into the night skies and see the work of your fingers – the moon and the stars you have made – I cannot understand how you can bother with mere puny man, to pay any attention to him! And yet you have made him only a little lower than the angels, and placed a crown of glory and honor upon his head" (Psalm 8:3-6, TLB) God has placed human beings in charge of the world He created. Our job is to care for His creation as good managers.
Just how did God go about making the first man and woman? The Bible says, "The time came when the Lord God formed a man's body from the dust of the ground and breathed into it the breath of life. And man became a living person….Then the Lord God caused the man to fall into a deep sleep, and took one of his ribs and closed up the place from which he had removed it, and made the rib into a woman, and brought her to the man' (Genesis 2:7, 21, 22, TLB). God's formula for creating Adam, the first man, was dust (dirt) formed into a human image plus the life-giving breath of God. The result was a living person. Then God made Eve, the first woman, from a rib taken from Adam.
Every person has been made by God. The Bible says, "Your hands made me and formed me; give me understanding to learn your commands" (Psalm 119:73, NIV).
You were shaped by God, who designed all the parts of your body to function perfectly. The Bible says, "You made all the delicate, inner parts of my body, and knit them together in my mother's womb. Thank you for making me so wonderfully complex! It is amazing to think about. Your workmanship is marvelous – and how well I know it. You were there while I was being formed in utter seclusion! You saw me before I was born and scheduled each day of my life before I began to breathe. Every day was recorded in your Book!" (Psalm 139:13-16, TLB).
God, your Creator, knows you very well – your thoughts, your activities, your every move. The Bible says, "O Lord, you have examined my heart and know everything about me. You know when I sit or stand. When far away you know my every thought. You chart the path ahead of me, and tell me where to stop and rest. Every moment, you know where I am. You know what I am going to say before I even say it" (Psalm 139:1-4, TLB). God knows everything there is to know about you – and He loves you!
God even know the number of hairs on your head. The Bible says, "Even the very hairs of your head are all numbered" (Matthew 10:30, NIV).
Because God knows you so well, He loves you and nothing can separate you from His love. The Bible says, "I am convinced that nothing can ever separate us from his [God's] love. Death can't, and life can't. The angels won't, and all the powers of hell itself cannot keep God's love away. Our fears for today, our worries about tomorrow, or where we are – high above the sky, or in the deepest ocean – nothing will ever be able to separate us from the love of God demonstrated by our Lord Jesus Christ when he died for us: (Romans 8:38, 39, TLB).
Topic
Worry
Worry
Worry in our thoughts, like a dripping faucet, is sometimes hard to turn off! But worry can lead to our being afraid or to making foolish choices. Let's see what God, in the Bible, has to say about worry.
Why is worrying a bad thing? First of all, Jesus tells us that worrying is a waste of time. It's in the Bible, "And besides, what's the use of worrying? What good does it do? Will it add a single day to your life? Of course not! And if worry can't even do such little things as that, what's the use of worrying over bigger things?"(Luke 12:25-26, TLB).
How can worrying become hurtful to me? "Stop your anger! Turn off your wrath. Don't fret and worry—it only leads to harm"(Psalm 37:8, TLB).
Does God really have everything under control? It's in the Bible, "So don't worry at all about having enough food and clothing. Why be like the heathen? For they take pride in all these things and are deeply concerned about them. But your heavenly Father already knows perfectly well that you need them, and He will give them to you if you give Him first place in your life and live as He wants you to." (Matthew 6:31-33, TLB).
Then how can we handle worry? We can replace it with something better—prayer. God has given this promise in Philippians 4:6-7, TLB. "Don't worry about anything; instead pray about everything; tell God your needs, and don't forget to thank Him for His answers. If you do this you will experience God's peace, which is far more wonderful than the human mind can understand. His peace will keep your thoughts and your hearts quiet and at rest as you trust in Christ Jesus."
We can have peace and let God handle our worries. This is a great verse to underline and memorize in your Bible. "Let Him have all your worries and cares, for He is always thinking about you and watching everything that concerns you." (I Peter 5:7 TLB).
Rely on Christ, not yourself. It's in the Bible, "I am the vine, you are the branches. He who abides in Me, and I in him, bears much fruit; for without Me you can do nothing."(John 15:5, NKJV).
Christ offers rest to those who are burdened with worries. It's in the Bible, Matthew 11:28, NKJV. "Come to Me, all you who labor and are heavy laden, and I will give you rest."
God gave up His Son for us; we can trust He will give us what we need. It's in the Bible, "He who did not spare his own Son, but gave him up for us all—how he will not also, along with him, graciously give us all things?" Romans 8:32, NIV
Avoid worry even in difficult times by trusting in God. It's in the Bible, "But blessed is the man who trusts in the LORD, whose confidence is in him. He will be like a tree planted by the water that sends out its roots by the stream. It does not fear when heat comes; its leaves are always green. It has no worries in a year of drought and never fails to bear fruit."(Jeremiah 17:7-8, NIV).

Topic
Angels
Angels
There are lots of stories circulating about angels. Some people believe that angels are imaginary – like Tinker Bell. Others believe that when you die, you become an angel. It's important that we know the truth, so let's go to the Bible, the best book of all.
Are angels real? Yes. The Bible says, "Are not all angels ministering spirits sent to serve those who will inherit salvation?" (Hebrews 1:14, NIV). In this verse "minister" means to help. So this verse is telling us that angels are sent to help God's children.
How many angels are there? The apostle John wrote, "Then I looked and heard the voice of many angels, numbering thousands upon thousands, and ten thousand times ten thousand" (Revelation 5:11, NIV). That's over 100,000,000 angels! John is letting us know that there were so many angels that he couldn't count them.
What kinds of things do angels do? They carry out God's orders. The Bible says, "Bless the Lord, you His angels, who excel in strength, who do His word…" (Psalm 103:20, NKJV).
Who is the leader of the angels? The Bible says, "Christ is in heaven, sitting in the place of honor next to God the Father, with all the angels and powers of heaven bowing before him and obeying him" (1 Peter 3:22, TLB). It's nice to know that Jesus is in charge and our angel stays in contact with Jesus.
Do people who die become angels? No. Angels and human beings are very different. The Bible says, "What is man that You are mindful of him? . . . For You [God] have made him a little lower than the angels, and You have crowned him with glory and honor" (Psalm 8:4, 5, NKJV). During creation God made trees, animals, and people separately. It was the same way with angels and people. Angels were created before mankind, so they couldn't be people who have died and then be turned into angels.
Can angels appear in the form of people? Yes. The Bible says, "Do not forget to entertain strangers, for by so doing some people have entertained angels without knowing it" (Hebrews 13:2, NIV). Read Genesis 18 and discover how angels appeared to Abraham in the form of men.
Do angels ever come to this earth? Yes. The Bible mentions a number of times when angels have come to earth and appeared to men and women. One of these times was when angels appeared to the shepherds who were watching their sheep and told them that Jesus had been born in Bethlehem. The Bible says, "An angel of the Lord appeared to them [the shepherds], and the glory of the Lord shone around them, and they were terrified. But the angel said to them, 'Do not be afraid. I bring you good news of great joy that will be for all the people,' . . . . Suddenly a great company of the heavenly host appeared with the angel, praising God" (Luke 2:9, 10, 13, NIV).
Do I have an angel? Yes, you do. Each person has an angel who watches over him or her. We sometimes call them "guardian angels." The Bible says, "Beware that you don't look down upon a single one of these little children. For I tell you that in heaven their angels have constant access to my Father" (Matthew 18:10, TLB).
Will my angel rescue me from danger? Yes. The Bible says, "The Angel of the Lord guards and rescues all who reverence him" (Psalm 34:7, TLB).
When Jesus comes to earth the second time, who is going to come with Him? The Bible says, "They will see the Son of Man coming on the clouds of the sky, with power and great glory. And he will send his angels with a loud trumpet call, and they will gather his elect [chosen ones] from the four winds, from one end of the heavens to the other" (Matthew 24:30, 31, NIV).

Are there bad angels and if so, where did they come from? Yes, there are bad angels. They were once good angels who chose to rebel against God. The Bible says, "The great dragon was hurled down—that ancient serpent called the devil, or Satan, who leads the whole world astray. He was hurled to the earth and his angels with him" (Revelation 12:9, NIV).
Can the bad angels influence me? Yes, they can. The Bible says, "Our struggle is not against flesh and blood, but against the rulers, against the authorities, against the powers of this dark world and against the spiritual forces of evil in the heavenly realms" (Ephesians 6:12, NIV). Satan and his angels certainly try to influence us, but Jesus is always there to help us. If we ask Him to, Jesus will make Satan and his angels leave us alone.

Will God ever get rid of the evil angels once and for all? Yes. The Bible says, "Then he [Jesus] will say to those on his left, 'Depart from me, you who are cursed, into the eternal fire prepared for the devil and his angels' " (Matthew 25:41, NIV).
Originally posted on April 27, 2018 @ 6:18 pm